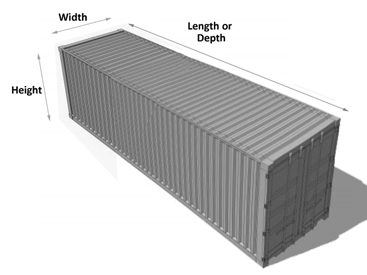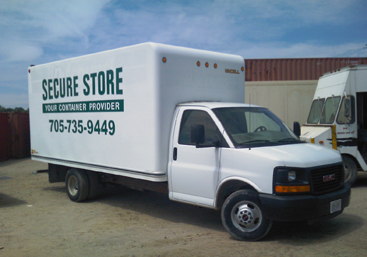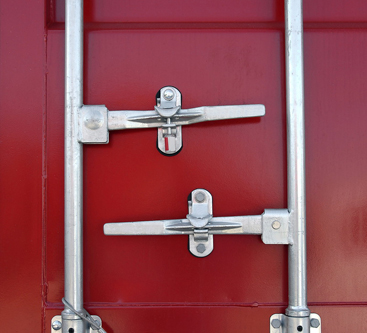 Wind and Water Tight Door Handles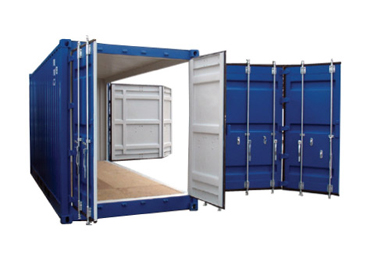 Side Open container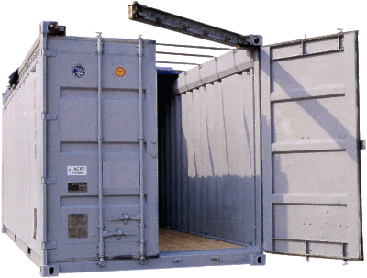 20′ Open Top Container
Almost everything you need to know about containers…
The majority of steel containers sold, rented and modified by Secure Store are referred to as dry cargo containers. This is meant to indicate the types of items that should be placed in the containers when they are being shipped across seas or on rail.
The two primary sizes for steel storage containers are 20′ and 40′ but are also available in 45′ and 53′ lengths. Due to our full customizations of shipping containers, Secure Store can offer its clients ANY SIZE steel shipping container from 8′ to 53′. Great for someone who has limitations in the area they can place their container. Special high cube containers are also available at Secure Store and are the same length but 1 foot higher (9'6″) than the standard 8 foot 6 inch high containers.
Clients that purchase containers and are considering placing oil, gas, medical waste, chemicals or other items not considered as dry cargo such as lawn mowers, engines, generators etc. run the risk of these items damaging or contaminating the container so that it cannot be used for other purposes. Once a container has been contaminated, it is VERY expensive to refurbish it. If you are storing furniture or other fine valuables in your container, you certainly do not want them to smell or be stained with gas or oil.
Secure Store rental containers for moving are in immaculate near mint condition to ensure that your valuables will not be contaminated. When you are considering purchasing a container, you should indicate whether you would like a new (furniture grade) or a used (construction grade) container.
If your container should ever require repair, Secure Store has a fleet of trucks and mobile service vans that can bring your container to our yard or go to your location with the necessary tools.
Container Labelling
Many people ask us what the labelling on the storage container means, so here is a brief definition of the labelling you will see on steel shipping containers.
Tare Weight is the mass (or weight) of empty container, including all fittings and appliances used in a particular type of container in its normal operating condition. This weight is approximately 5000lbs. (2100kgs) for a 20 foot container. A 40 foot container is approximately double that weight.
Rating is the maximum gross mass (or weight). This is the maximum permissible weight of a container plus its contents.
Capacity is the maximum volume of cargo that can be loaded. This number is calculated by multiplying the internal length, width and height but represents the theoretical maximum capacity. Most containers are filled with space left at the top, sides or ends due to the shape of the cargo and therefore the capacity is reduced. The packaging of certain products did not allow for and efficient packing of standard 20 foot and 40 foot containers, so the industry developed the "high cube" version of the steel shipping container.
High Cube containers have the same general dimensions as a standard container except that they are 1 foot higher at 9 feet 6 inches. While high cubes were developed for more efficient packing of dry goods, most Secure Store clients select high cubes for their custom built living quarters. The additional space allows more flexibility for the contents of the living container. The additional space in a high cube allows for more insulation, hidden wiring and plumbing and more flexibility with ceiling finishes.
Door Construction
Standard containers come standard with one set of doors located on the end of the container. These doors are commonly referred to as "barn doors".
On each of these doors are two handles that allow the door to be sealed "wind and water-tight". To open the container, both of the handles on one of these doors (usually the right one when facing the doors) must be opened.
Each of the two handles can have two locks placed onto them to offer a level of security but this locking system can be easily overcome by a pair of bolt cutters (depending on quality of lock).
Other Door Configurations
There are a few other door options that are possible with a container which include:Adding another set of barn doors to the other end of the container so that it can be loaded or unloaded from both ends. This may be important for some companies that ship cargo, but not usually for businesses using them for storage or other modified uses.
Having side open doors
Having Open Tops
A Secure Store, we can provide all types of containers. Call us today at (877) 988-6488 to learn if we have your container in stock.