Secure Store can design your project with multiple containers and assemble on site!
A 16 foot by 40 foot garage built from two standard 40 foot containers – An affordable option.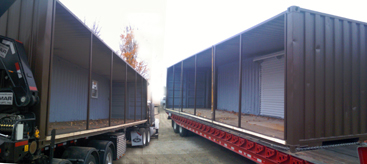 Using two standard containers, the Secure Store build team is able to cut open the sides of the containers so that they can be joined together offering a larger floor space.
The temporary internal steel support beams seen in this picture are required for delivery and for some client applications.
This client is welding the roof's to the two containers together so that all of the internal support beams can be removed. If the roof's are not welded together, at least two of the central steel support beams must remain for support.
Joining the Containers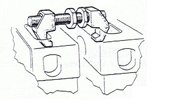 Using industrial strength corner casting bolts, the containers are pulled together and locked into their joined position.
Minding the Gap
Secure Store offers permanent and temporary solutions for the seam between the containers. As a permanent solution, our build team can weld the two containers together. Temporary solutions vary from tarps and weather stripping to spot welding of steel plates. Temporary solutions are used when your joined containers need to remain portable.
Options

Whether you are ordering a stand alone container or multiple containers joined together, Secure Store offers a wide range of finishing options including:
Air conditioning
Ontario Hydro Inspected
Security bars on Windows
Personnel doors
Internal and external lighting
Fibreboard trim
Painted in the colour of choice
Baseboard heating with thermostat
Three double plug connections
White Melamine finishing
Fixed and/or slider windows
Standard container floors
Framed walls with bat insulation
Roll-up doors
Call us today or fill out our online form for modified containers.