It's Moving DAY!
Make your move with

and save money!
Ready for a Quote?

Our standard tilt trucks deliver and pick-up your container.
Preparing for your move…
Downsizing, upgrading, new job, whatever the reason may be, Secure Store wants to help you with your next move. Whether it is across town or across the country, we can help you move.
Our containers are one of the most affordable ways to move your valuables from one location to another… and at a leisurely pace.
Our standard 20 foot solid steel shipping container is our most popular moving container having the space to hold and move a standard 3 bedroom house. Our clients sleep well at night knowing that their valuables are locked behind a Secure Store solid steel container sitting on their property.
Combine this security with the wind and water tight properties of all our moving containers to protect against the elements and you begin to recognize that Secure Store has the best solution for your next move.
For clients that need more space for their "stuff", Secure Store also offers 40′ long moving containers. Our goal and yours should be One container – One move. Your costs are the lowest when everything fits into a single container.
For optimal positioning of our container on your property, just let us know whether you want the doors of the container to be first off the truck (doors to the back) or if it is more convenient if the doors were last off the truck (doors to the cab). It all depends on where you are situating your container, it's up to you.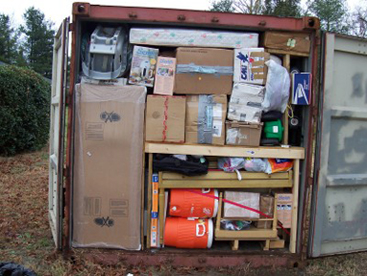 Planning your move with Secure Store…
About 2-3 weeks prior to your closing day, call Secure Store and order your moving container. We usually deliver same day or next day to most locations in Ontario from one of our locations in the province.
Now have a party… Friends and family will be lining up to help you move :) or at least they'll come for the free food. Pack your container.
We love to see containers that have been well packed like the image on the left! This tightly packed container offers the added benefit of preventing movement of the contents during transportation. If you can't fill your container (this is a rare situation), we have built-in solid steel j-hooks that allow you to tie down your partial load.
If the doors can close, your container is ready to be moved.
What NOT to pack in your container…
Our moving containers are "furniture grade" which means that your bedding, clothing, furniture, children's toys and other delicate valuables can be stored in our container's for moving without fear of them being spoiled.
To ensure that your valuables do not become contaminated (and to avoid contaminating the container), you should not pack the following items commonly found in your house.
Flammables such as gas canisters, oil, kerosene
Barbecues, propane tanks
Oil and gas based tools (lawnmowers, weed whackers)
Riding lawn mowers, used automotive parts
Paint, varsol, or other chemical based house items
It's really quite simple. Don't pack anything that could spill, cause stains, create a fire hazard or permeate odours into your valuables and cause you to lose the use of your valuables!
Do I need Insurance?
In most instances, YOU DO NOT NEED ADDITIONAL INSURANCE WHEN YOU PLACE YOUR VALUABLES IN OUR CONTAINERS! Your current home insurance policy should cover it.
Secure Store strongly advises that you contact your home insurance provider and inform them of your intention of placing your home contents into a moving container. Be sure to let them know that you are using a Secure Store solid steel lockable container that is water and wind tight to prevent against theft and damage.

The optional Hammar is used for vertical loading and unloading of your container
Pick-ups and Deliveries…
Secure Store uses "tilt-loaders" (as seen above in the left column) to pick-up and deliver. If you have packed your valuables well and tightly, this type of pick-up and delivery is great. For those clients that have concerns about the container being tilted for loading and unloading, Secure Store offers "The Hammar".
The Hammar (pictured on left) allows your packed container to be vertically lifted, placed onto the trailer and transported to your new destination. We then unload your container vertically as well.
We offer this service at a slightly higher price but remember, it would only have to be used once to pick up your full container and drop off your full container at its new destination. When we deliver and pick-up your empty container, we would still use out tilt loaders. This keeps your overall price down.
If you prefer the Hammar loading, be sure to indicate this on your request for quote under Additional Information.

If you would like a price for your move call us at (877) 988-6488 or visit our online quoting system for moving.
Specialty Moving Requirements…
Secure Store does have specialty containers for moving your other household items such as lawn mowers, vehicles, barbecues and other materials. Just call and let us know what items you're moving and we can provide a container for that application.
What will it cost?
Our costs are based on a 1 month rental (longer available) of the container and how far the container is being moved. So if you are just moving across town, your price may be as low as a few hundred dollars. Longer distances (or container rentals) will increase your costs but will still be less expensive than hiring a moving company to make the same move.
Our Service Includes:
Delivering an empty container to your location
Picking up your full container and either storing it at Secure Store OR delivering it to its new destination
Picking up the empty container when you have finished unloading it
Most clients rent our containers and complete their move within 1 month. If you need to use our containers for a longer period of time, Secure Store will only charge you for the portion of the month that you use it for, then we'll come and pick it up.
It's that simple.
Why not find out how much it would cost to move with Secure Store right now by using our online quoting system or call us at (877) 988-6488.
We also offer long term rentals of our containers… just let us know.